Please note that for 2021 Pastor Polly will be recording a Lenten Devotional. That video will be posted here each Wednesday (see below) so that you can view it at your convenience.
During the period of Lent (between Ash Wednesday and Easter), the Methodist Church hosts a series of community wide worship services. Each Wednesday during Lent from 12:00-1:00, a local church will host the worship service in the Methodist Church sanctuary. Following the service, a meal will be provided by the host church in the Methodist Church Activities building.
Many denominations are represented during these luncheons each week – the focus isn't on doctrine, but on the season of Lent and the crucifixion and resurrection of Jesus Christ.
Please come join us during this holy season for a worship service followed by lunch.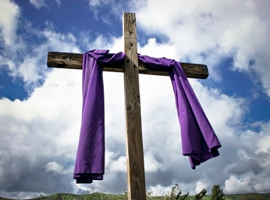 Lenten Luncheon Devotional~Week 1, February 24, 2021